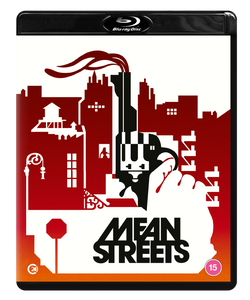 THIS ITEM IS AVAILABLE TO PRE-ORDER. PLEASE NOTE THAT YOUR PAYMENT WILL BE TAKEN IMMEDIATELY, AND THAT THE ITEM WILL BE DISPATCHED JUST BEFORE THE LISTED RELEASE DATE.
SHOULD YOU ORDER ANY OF THE ALREADY RELEASED ITEMS FROM OUR CATALOGUE AT THE SAME TIME AS THIS PRE-ORDER ITEM, PLEASE NOTE THAT YOUR PURCHASES WILL ALL BE SHIPPED TOGETHER WHEN THIS PRE-ORDER ITEM BECOMES AVAILABLE.
Director: Martin Scorsese
Starring: Harvey Keitel, Robert De Niro, Amy Robinson
A low-level mafioso battles with his guilty conscience as he tries to save his misfit friend from the same world of crime that he was born into.
Special Features 
New 4K restoration supervised and approved by Director Martin Scorsese and Collaborator Thelma Schoonmaker
Restored original mono audio
New audio commentary by Demetrios Matheou (author of BFI Films Classics Mean Street) and David Thompson (Co-Editor of Scorsese on Scorsese)

Scene specific audio commentary with Martin Scorsese and Actor Amy Robinson




Keep Moving Forward: a new interview with Producer Jonathan T Taplin

Saints and Sinners: Dr Catherine Wheatley on Mean Streets

2011

Film at 

Lincoln Center screening introduction, interview and Q&A with Martin Scorsese

Mardik: Baghdad to Hollywood feature-length documentary

Archive featurette: Back on the Block

Archive featurette: Home Movies

Trailer
Catalogue number: 2NDBR4202
Certificate: 15
Region: Blu-ray Region B